Edward J. McMahon is well known as a successful attorney and enterprising citizen of Hope, North Dakota. He is a native of Minnesota and was born in Faribault January 10, 1859.
The parents of our subject, Thomas and Bridget (Shanahan) McMahon, were natives of New York and Maine respectively. His father was a contractor and acted in that capacity in the early days and as foreman on the construction of the Erie Railroad. He afterward removed to Iowa and was superintendent of the stone quarries at Mt. Pleasant, which furnished the stone for building the insane asylum at that place. In the fall of 1856 he went to Minnesota, secured land and engaged in farming near Faribault, where he resides with his wife at the present time. Our subject comes of a prominent family, the illustrious French marshal of that name being his second cousin.
Mr. McMahon was the second in a family of twelve children, six sons and six daughters, and when a boy worked on the home farm and attended the public schools with his brothers and sisters. He later attended the Shattuck Military School at Faribault, and graduated there in 1877 and then returned to the farm where he made his home until 1882. From 1880 to 1882 he studied law with Case & Gipson, of Faribault, and was admitted to the bar May 2. 1882. He then went to Hope, North Dakota, and began the practice of his profession, in which he was most successful. He removed to Minneapolis, Minnesota in 1889 continuing his practice there until the breaking out of the Spanish-American war in 1898. His military ardor was awakened and he joined the Fifteenth Minnesota Infantry as first lieutenant and proceeded with his regiment to Georgia. Their services were not needed in Cuba, however, and he was mustered out April 27, 1899. As a private citizen he proceeded to Florida and from thence to Cuba and spent the summer of 1899 in those places. He returned north the same year and again went to Hope, North Dakota, and resumed his practice, and is permanently located there and enjoys an ever increasing business.
Our subject was married, November 1, 1897, to Ella M. Vedder of Rochester, Minnesota. Mr. McMahon was the first county attorney of Griggs county, in 1882, and was appointed by the commissioners before the county was divided. He assisted in the organization of Steele county, and was the first register of deeds, when Hope was the county seat of Steele county. He is a Republican in politics, and has attended state, territorial and national conventions on behalf of his party to which he is a stanch adherent. He has a large library of law-books, is well educated, a genial gentleman, and deservedly popular with the people. The reader will be interested in studying his portrait found in this work.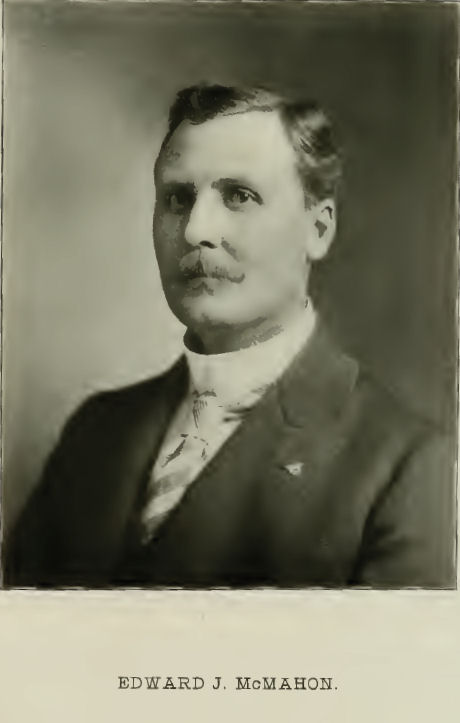 Source: Compendium of History and Biography of North Dakota 1900 Page 1119