William J. Milligan is well known as an early settler and influential citizen of Steele county, North Dakota. He is a man of good business tact, and has met with success as grain buyer, and is the representative in the city of Hope for the St. Anthony & Dakota Elevator Company.
Our subject was born in Burlington county. New Jersey, April 15, 1854, and was a son of William and Alice (Taggart) Milligan, both of whom were natives of county Antrim, Ireland. His parents were married in America, and six children were born to them, our subject being the second child and oldest son. He removed with his parents to Ford county, Illinois, when about nine years of age, and remained with his father on the farm there until about twenty-two years of age, when he learned the blacksmith's trade. He followed the trade about one and a half years, and April 10, 1883, went to Hope, North Dakota, and soon began work at his trade in Colgate, Steele county, and erected the first blacksmith shop in that town. He disposed of his shop in August, and in the fall worked in the harvest field and then returned to Illinois for his wife. He returned to Hope, North Dakota, in January, 1884, and for four years worked at various occupations, and then began grain buying for the company with which he is now associated. He was located in Colgate for about three years, and was then placed in charge of the business at Hope. He was postmaster of Hope from 1891-94 and was again tendered the office, but refused, on account of party sentiment, although supported by members of both political parties. During the early days many amusements were indulged in to while away the time, and Mr. Milligan was a member and captain of a baseball nine during the summer of 1885, known as the Hope Black stockings. The team successfully competed with all amateur teams of the state.
Mr. Milligan was married in 1882 to Miss Mary A. Warner, a native of Ford county, Illinois. Mrs. Milligan is the present postmaster of Hope, North Dakota. Six children have been born to Mr. and Mrs. Milligan, as follows: Myrtle M., Edgar, Carrie, Gene, Bert and Mamie. Their many friends will be pleased to find a portrait of Mr. and Mrs. Milligan on another page. Mr. Mlilligan is a member of the Independent Order of Odd Fellows, and the blue lodge and lodge of perfection in the Masonic fraternity. He is a stanch Democrat in political faith and advocates prohibition.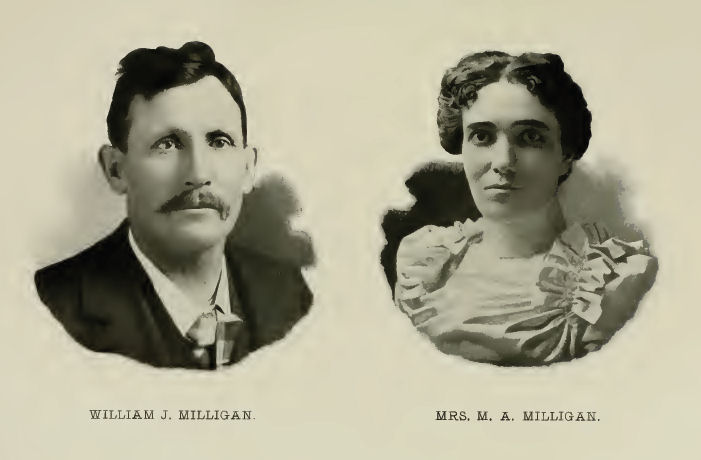 Source: Compendium of History and Biography of North Dakota 1900 Page 278