William H. M. Philip. M. D. The medical profession is so well represented throughout the state of North Dakota that it is difficult to determine who stands in the foremost rank. It is an undisputed fact, however, that the gentleman whose name heads this personal history has a high standing as a physician and surgeon, not only among his people, but among his medical brethren, and he has become well known as an honest and painstaking practitioner. He is the oldest resident physician of Steele county and has his office and home at Hope. A portrait of Dr. Philip is shown on another page.
Our subject is of Scotch birth and was born September 24, 1852. He was the eleventh in a family of twelve children born to Charles and Eliza (Read) Philip. His father was a sugar merchant in his native country and his fortune was diminished by heavy losses at sea, and while our subject was still an infant the family came to America in search of better times. They resided on a farm near Chicago Heights, Illinois, and there remained fourteen years, when they removed to Metamora, Woodford county, Illinois.
At the age of twenty years our subject began reading medicine and in the fall of 1878 entered Rush Medical College, Chicago, graduating from that institution in the class of 1881. In the class there were one hundred and seventy-two graduates, fifteen only receiving certificates of honor, among whom was our subject. In July, 1882, he went to Hope, North Dakota, where he has been eminently successful and has steadily built up an extensive practice.
Our subject was married, on October 3, 1889, to Miss Libbie Curry, one of Steele county's most successful teachers. Five children have been born to Doctor and Mrs. Philip, as follows: Charles, deceased; Frank R. ; Glandys M. ; Ruth E., deceased, and Randall Hunter, deceased. Dr. Philip is a man of exemplary character and holds membership in the Congregational church. He also affiliates with the Masonic fraternity, Independent Order of Odd Fellows, Brotherhood of American Yeomen and Modern Woodmen of America. For several years he has been a railroad surgeon for the Grand Northern Railroad and is a member of the International Association of Railway Surgeons, American Medical Association and State Medical Society, and was a member of the first state board of medical examiners and served four years, and is the present president of the county board of insanity and superintendent of the county board of health. He does not seek public favor, but is a man of sound judgment and one who keeps pace with the world on all matters of importance, and is outspoken in his opinions and influential as a citizen. In political sentiment he is a Republican.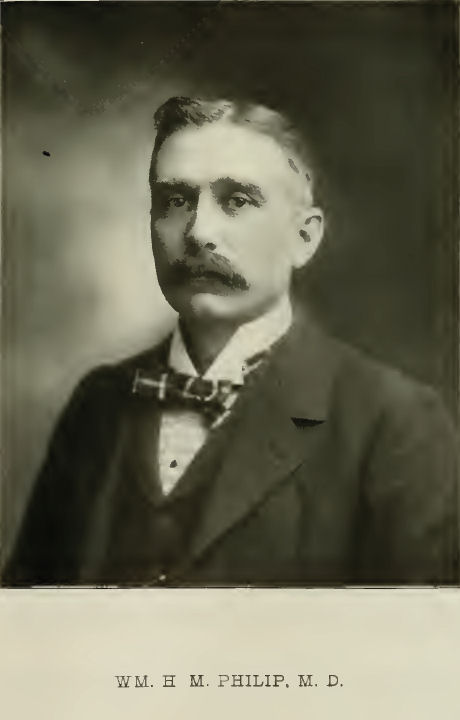 Source: Compendium of History and Biography of North Dakota 1900 Page 346