Hon. Charles A. Sanford. As an all around prominent citizen no man in Stutsman county is more entitled to mention in a volume of this nature, than Mr. Sanford. He has aided materially in the up-building of that region, and his present high position among the business men and public- spirited citizens of his community has been accorded him as a fitting tribute to his labors. Aside from extensive land interests in North Dakota, he is proprietor of the "Countenay Gazette," and is also established in the real estate, insurance and collection business, in which he has built up a lucrative and ever-increasing business. A portrait of Mr. Sanford is shown in connection with this sketch.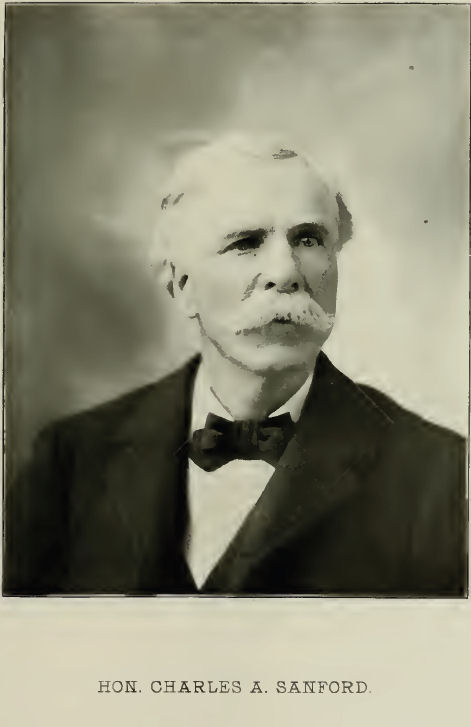 Our subject was born in Washtenaw county, Michigan, in 1838, and was a son of Ezra and Almira (Chamberlain) Sanford. His parents were of American descent, and his father was born in Vermont, and was a farmer by occupation. He settled in Michigan in 1837 and when our subject was but seven years of age the mother died, and the family moved to Indiana, and after two years returned to Michigan.
Our subject was the youngest in a family of twelve children, and was reared on his father's farm, and at the age of fourteen years he went to Indiana to make his home with his sister. After three and a half years there he returned to his native state and three years later attended the State Normal School and then taught one term of school, after which he entered the Ypsilanti high school, and entered the classical department of the University of Michigan in 1861. He attended this institution three and a half years, and during his junior year he was for several months employed in the office of the auditor-general at Lansing, Michigan, and returned to school in the fall of 1864. He was appointed paymaster's clerk in the United States volunteer service in February, 1865, and went to Washington where, in addition to his clerical duties, he continued his studies without instructors, and returning to Ann Arbor in the fall he passed private examinations before his several professors, and was graduated from the University with the class of 1866, with the degree of A. B., and later took the degree of A. M. He then engaged in the lumber business in the Saginaw valley, but fire soon destroyed his mill, and he lost about four thousand six hundred dollars. He spent two years as principal of the ward schools of Lansing, Michigan, and in 1876 was elected superintendent of the Lansing city schools, which position he held nearly seven years, when he was compelled to resign on account of failing health. He went to North Dakota in the spring of 1883, and raised one crop on land east of Jamestown, and the following fall filed claim to the south half of section 26, township, 144, range 62, and built a claim shanty and a board barn and began farming. He moved onto this land in the fall of 1884, where he resided until the spring of 1898. He purchased section 35, township 144, range 62, in 1889, and has added to his possessions from time to time since, and is now the owner of extensive and valuable tracts. His home farm consists of six hundred and forty acres, and in 1899 he purchased nine hundred and thirty-four acres of land in the southwestern part of Griggs county. The last named tract is yet uncultivated, but is valuable property. Mr. Sanford engaged in stock-raising and dairying largely while on his farm, and has every convenience on the farm to facilitate the work. His articles on dairying were widely copied in state reports and dairy journals. He retired from farm labors in the spring of 1898 and removed to Courtenay, where he erected the finest residence in that locality, and has since made his home. He established the "Courtenay Gazette" in October, 1897, and the following spring assumed charge of the paper.
Mr. Sanford is an influential citizen, and takes an active interest in affairs of a public or religious nature. In 1896 he was commissioned from the Fargo presbytery to the general assembly of the Presbyterian church of the United States, which met in Saratoga. He is secretary and treasurer of the Jamestown Presbyterian College. For several years he has been a director in the Alliance Hail Association of North Dakota. He was elected as a representative to the state legislature of North Dakota in 1898, and is at this writing, March, 1900, chairman of the committee on education, occupies a place on the committee on appropriations, committee on irrigation and on the joint committee on charitable institutions and the joint committee on educational institutions. During Roger Allen's administration he was a member of the state board of agriculture. In 1897 Governor Briggs appointed Mr. Sanford delegate to the farmers' national congress which convened at St. Paul. He did very efficient work and his public spirit is always manifest. He occupied a very eligible seat in the parquet in Ford's theater on the night of April 14, 1865, when President Lincoln was assassinated by J. Wilkes Booth whose escape he witnessed with profound regret. He has been treasurer of the school district since 1893. Politically Mr. Sanford is a Republican and has attended as a delegate, numerous conventions in the county and state. He holds membership in the Masonic fraternity, and is a member of the Owls and Delta Kappa Epsilon (college) fraternities
Compendium of History and Biography of North Dakota 1900 Page 258