Lawrence N. Torson, the able state's attorney of Pierce county, has made his way to the front ranks of his profession in North Dakota, by dint of close application and natural ability. He is a resident of the city of Rugby, and is regarded as one of the ablest members of the bar not only of Pierce county, but of the state.
Mr. Torson was born in Wampaca county, Wisconsin. July 16, 1859. His parents, Brynjulf and Maria (Nelson) Torsen, were both natives of Norway, born in Kragrero. The father was a shoemaker by trade. He came to America in 1844 and settled in Jefferson county, Wisconsin, but later went to Wampaca county. There our subject was born, the eighth in a family numbering nine children. He was reared on the farm and attended the country schools, and took a course in the high school of La Crosse. At the age of fifteen years he began teaching and followed that calling for twelve years, both in Wisconsin and Minnesota, having located in Moorhead, Minnesota, in 1885. He began the study of law in Moorhead in the office of O. Mosness, and was admitted to the bar in 1887. In 1888 he went to Mayville, North Dakota, and worked in the law office of Robertson and Welch for two years. He came to Towner, North Dakota, in 1889, and practiced law for seven years. While there he was appointed county superintendent of schools in 1890, and elected to that position in 1892 and again in 1894, serving five years. In the fall of 1896 he was elected state's attorney of McHenry county. He resigned the following summer and came to Rugby to accent the office of state's attorney of Pierce county, to which he had been appointed in July. 1897. He was elected to the same office in 1898 and is now a candidate for re-election in 1890.
Mr. Torson was married, in 1882, to Miss Mary Myhron. Mrs. Torson was born in Winchester, Wisconsin, in May, 1860, a daughter of Ole Myhron, who was born in Norway in 1809, and came to America in 1844, becoming an early settler in Wisconsin. To Mr. and Mrs. Torson four children have been born, named as follows: Maria, born in Wisconsin February 16, 1884; Thomas B., born in North Dakota June 25, 1888; Joseph M., born in North Dakota March 28, 1892, and Mina L., born in North Dakota June 7, 1895.
Mr. Torson is a Republican in politics, though he had been a Democrat prior to 1896. He is a man of broad views and deep penetration. He is a staunch supporter of the public school system, and has always taken a deep interest in educational matter. He has conducted teachers' institutes in Cavalier, Griggs and McHenry counties. He was chosen chairman of the delegation to the state convention at Fargo May 16, 1900. His portrait will prove an interesting addition to this work.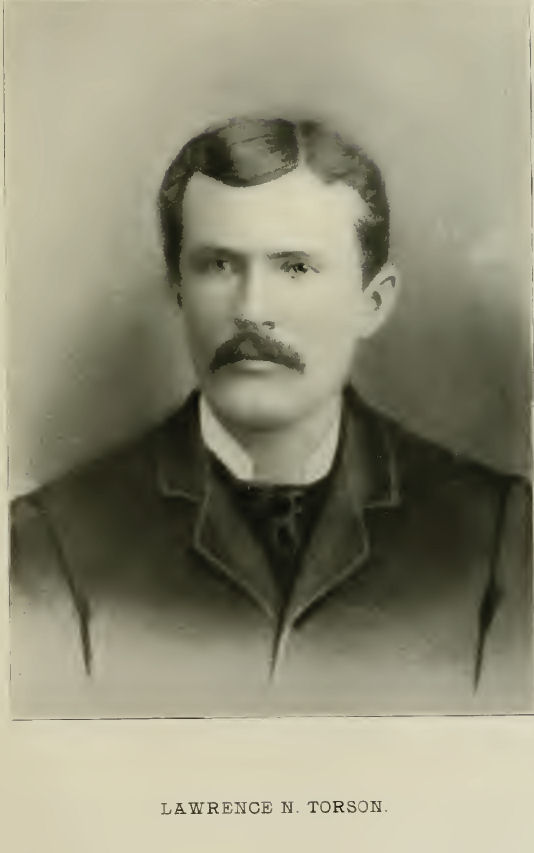 Source: Compendium of History and Biography of North Dakota 1900 Page 1228